Biography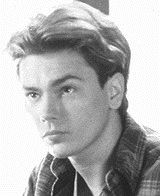 Full Name: River Jude Phoenix
Nickname: Rio
Born: 23rd August, 1970. Madras, OR
Died: 31st October, 1993. Los Angeles, CA

Family:

Father: John Lee Bottom

Mother: Arlyn Sharon (Heart) Dunetz, born 31st December, 1944

Siblings: Rain (Rainbow) Joan of Arc, born February, 1973.

Joaquin (Leaf) Raphael, born 28th October,1974.

Liberty Butterfly, born 5th July, 1976.

Summer Joy, born December, 1978.

The eldest of five children, River Phoenix was born in the small town of Madras, Oregon, and travelled extensively with his family as a young child. In the late 1970s, his family settled in Florida and then in California.

At the age of 10, River and his sister Rain did audience warm-up for the television show Real Kids. Roles in commercials gradually led to TV movies and a recurring role in the television series, Seven Brides for Seven Brothers.

Joe Dante's Explorers in 1985 marked Phoenix's feature film debut, followed by Rob Reiner's Stand By Me. He co-starred with Harrison Ford in The Mosquito Coast, and portrayed Indy (also Harrison Ford) as a young boy in Indiana Jones and the Last Crusade. Additional credits include I Love You to Death and Dogfight.
River was named Best Actor at the Venice Film Festival for his starring role as a narcoleptic street hustler in My Own Private Idaho. In 1988, at age 17, he received an Academy Award nomination for Best Supporting Actor following his role in Running on Empty.

An accomplished guitarist, Phoenix played in a band called Aleka's Attic, together with his sister Rain. Their song "Across The Way" was featured on the compilation album Tame Yourself along with such musicians as The B-52s, Indigo Girls and k.d. lang. River also sang and played guitar in the country & western drama The Thing Called Love.

Phoenix's final credit was a metaphysical Western, Silent Tongue, written and directed by Sam Shepard. Before his untimely death on Halloween night, 1993, Phoenix was set to play the interviewer in Neil Jordan's adaptation of Anne Rice's Interview with the Vampire. He had also nearly completed work on the independent thriller Dark Blood, with Judy Davis.

He died at 23 on October 31, 1993, of a drug overdose in Los Angeles.

There's more biographical information in most of the magazine articles on this site.

"Once you get into that street groove, the other side - the straight side - looks really scary." -- River Phoenix
Back to the Home Page