Dark Blood
Dark Blood (1993, uncompleted Cut completed in August 2012) USA 1993. Directed by George Sluizer.

October 31, 2015
New exclusive perks have been added to the "Never Give Up" crowdfunding project : T-shirts, as well as two unique pieces : a 1:1 copy of the original Dark Blood slateboard date October 30, 1993, and George Sluizer's own copy of the Dark Blood Scenario used while shooting the movie.
I also added links down this page to two older articles : a review from October 31, 2013 a screening of Dark Blood followed by a Q&A with George Sluizer, and an article from Newstatesman about George Sluize's career and fight for Dark Blood.
October 7, 2015
Harold Jalving, sound engineer for the 2012 edit of Dark Blood, is working with the blessing of Anouk Sluizer on a film documenting the battle of George Sluizer to complete Dark Blood, "Never Give Up", and bring it to screens all over the world. A crowdfunding project has been launched on September 20, 2015 to help fund this movie and the quest for the missing reels.
If you're asking yourself "Would River want people to see Dark Blood?", the late Karen Black answered this in the Filmen Over Grenzen documentary : "River was an actor. Every actor wants his work to be seen". After seeing the movie thanks to Anouk and George Sluizer, I concur. A lot of work went into it, it's only fair to give it a chance to be seen by everyone who wants, the way it was meant.
"Never Give Up" IndieGogo page.
"Never Give Up" Facebook page.
February 25, 2014
Articles about the Glasgow showing have been added in the articles section of this page.
February 20, 2014
The movie will have its UK premiere at the 2014 Glasgow Film Festival in Scotland, on Monday February 24, 2014, at the GFT at 6:30 pm. Also Dark Blood will have a national release in Japan in May 2014.
January 20, 2013
Dark Blood was part of the Berlinale 2013 competition, Germany's famous film festival, in February 2013.
The movie will also have its first US screening at the Miami Film Festival, in March.
October 31, 2013
On the occasion of the 20th anniversary of River's death, Dark Blood had a screening on October 29th, 2013 at the Aero Theatre in Santa Monica. It will also air on Friday November 8th, 2013 at the Ketelhuis theatre in Amsterdam, Netherlands.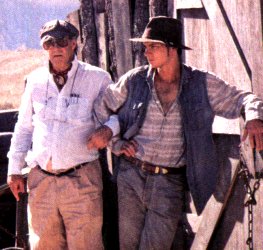 Jonathan Pryce - Harry
Judy Davis - Buffy
River Phoenix - Boy
Karen Black - Motel woman
John Trudell - Indian #2
Rodney A. Grant - Indian #3
George Aguilar - Indian #4
Lorne Miller - Mechanic / Motel Woman's Son
A couple, Harry and Buffy, are travelling across the Arizona desert in an ageing Bentley. Harry is English, a minor but arrogant and chauvinist movie star who regards his American wife as little more than a chattel. The car is misfiring and they pull in at a Navajo settlement for the night to rest and get the car fixed up. Next day, they carry on with their journey and, in the middle of nowhere, the car breaks down and they are stranded. Harry is determined to stick to the principle of staying by the car until someone comes. Night falls, and Buffy is convinced she sees a light in the distance. The stubborn Harry refuses to believe her, so she sets out alone to try to find it. Eventually she comes upon a shack in which live the Boy, a young widower, and his black dog. The Boy spends his time carving wooden dolls. His grandfather is the Navajo chief whose portrait we see hanging behind the performers. He had married a white woman. The "Dark Blood" of the title is the Boy's dark side....

(More details in the report written by Richard Ross - previous maintainer of these pages - on the BFI's reading of the script, in 1996)
Story
Harry (Jonathan Pryce) and Buffy (Judy Davis) are on a second honey moon without the kids in the desert of Utah, in an attempt to salvage their marriage. Their car breaks down in the middle nowhere. While Harry deem it safer to stay in the car, Buffy finds help away from the road : a young man (River Phoenix) lives there, alone with his dog since his wife's death. He rescues the couple and explains them the Hopi indians living there have been moved away because the area was under the wind of nuclear testing. That's what caused the untimely death of his wife.
Fascinated by Buffy, he doesn't seem very hurried to see them leave. Harry notices the attraction between his wife and the boy, and perceives it as a threat, not just to his marriage. Tension keeps growing as incidents get in the way of the couple's return to civilization. Initially flattered, Buffy finally starts fearing for them when the boy reveals he's been preparing to a nuclear holocaust and would like to save Buffy by his side.
Review
The movie starts with an introduction by George Sluizer explaining the context in which the movie was started in 1993, interrupted by River's death, and finally completed in a different way in 2012, after Sluizer himself suffered health problems that caused him to want to show what had been achieved. He compares it to having built a chair with two feet with the initial crew. Now he managed to add a third foot to it. The fourth foot will always be missing, but the chair is able to stand on its own on its three feet.
Upon watching the final result, he hit the nail on the head with that analogy. Sure, the missing scenes, replaced by voice overs, leave some gaps in the movie. But so much exists and falls into place around these gaps that it could nearly be seen as the director's initial choice if we didn't know the story behind.
Sluizer said that over 80% of the scenes had been shot. Fortunately, it looks like all of the key scenes of the end were done. So the intensity of it isn't lost.
The final movie is 86 min long, fairly enough for a feature film, and here's to hope it will be distributed as it deserves. It's surely worth it, as another key piece in George Sluizer's filmography, the beautiful images of it all (thanks to Ed Lachman), a darker role than often for River Phoenix, and for the strong performances of the whole cast.

Boy : He died in a mental institution. Melancholia, so I'm told.
Buffy : Your great, great grandfather? So that makes you...?
Boy : One eighth Hopi and prone to depression. (pause) Dark blood in my veins. Got some dark blood yourself. You're familiar with... the dark side of things.

---

Boy : Show me a sane man and I'll show you a moron.

---

Boy : Magic's just a question of focusing the will. You don't get what you want because you're lucky. You get it because you will it.

---

Harry : You just speak your lines in a loud clear voice and try not to bump into the furniture. The fact of the matter is, to act in most movies all you need is good profile and a driver's license.

---

Boy : All my life I been hungry.

---

Harry : My wife... she's the kind of woman who likes to know she can still cust the mustard.
Director George Sluizer finally got back the rushes from the insurance companies. He's thinking about making a documentary on River's acting based on these rushes, but not in the near future.

01 August 2012

DARK BLOOD premiered at 32nd NFF DARK BLOOD by George Sluizer, the movie River Phoenix was working on at the time of his death in 1993, is being completed almost 20 years after it was abandoned. The film will have its premiere with a special guest audience on 27 September in Utrecht during the festival. DARK BLOOD stars River Phoenix, Judy Davis, Jonathan Pryce and Karen Black. During the Festival a retrospective of George Sluizer's oeuvre will be screened. At the same time a book about the 80 year old director's film life will be published.

The film tells the story of Boy, a young widower living on a nuclear testing site in the desert. Boy is waiting for the end of the world and carves Katchina dolls that supposedly contain magical powers.

Boy's solitude is interrupted when a Hollywood jet-set couple who are travelling across the desert become stranded after their car breaks down. The couple are rescued by Boy, who then holds them prisoner because of his desire for the woman and his ambition to create a better world with her.

Sluizer Films financed and produced the editing and post-production of DARK BLOOD, supported by the Netherlands Film Fund and donations via Cinecrowd funding.

Dark Blood was selected for the Golden Calf Competition at the Netherlands Film Festival 2012.
17 463 Eur were collected by Cinecrowd's crowdfunding.

The movie was projected for a guest screening at the Netherlands Film Festival on Thursday September 27, 2012.
There was a second screening, public, during the festival, on Tuesday October 2, 2012.

See a complete list of other festival showings on Dark Blood : the Movie : official website.

George Sluizer is hoping to find a good distributor for international release.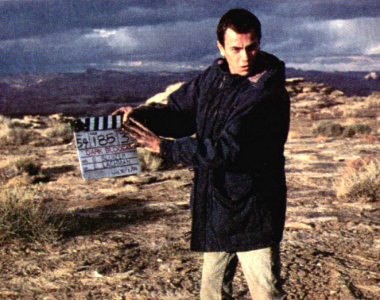 Screen Daily - River Phoenix's last film Dark Blood could see mainstream release - September 30, 2012 (added October 31, 2012)

The Guardian - Dark Blood - first look review - October 1, 2012 (added October 31, 2012)

Twitch - review: George Sluizer's Unfinished River Phoenix Film, DARK BLOOD - October 3, 2012 (added October 31, 2012)

Film Review: River Phoenix's 'Dark Blood' unveiled - October 5, 2012 (added October 31, 2012)

About the Berlinale :

Video interview of George Sluizer - February 24, 2014 (added February 25, 2014)

About the movie screening at the 2014 Glasgow Film Festival :

Herald Scotland : Dark Blood director pulls final River Phoenix film out of the ashes - February 15, 2014 (added February 25, 2014)

The Skinny : Phoenix Rises: George Sluizer on River Phoenix's final film Dark Blood - February 24, 2014 (added February 25, 2014)

The Independent : River Phoenix's last film on screen – 20 years after he died - February 24, 2014 (added February 25, 2014)

The Daily Mail : River Phoenix's final film shown at Glasgow Film Festival - 20 years after actor died - February 24, 2014 (added February 25, 2014)

MikeTheFanboy.com - Dark Blood Screening And Q & A report - October 31, 2013 (added October 31, 2015)

Newstatesman : George Sluizer (1932-2014): The obsessive director behind River Phoenix's last film - September 24, 2014 (added October 31, 2015)