A Gus Van Sant retrospective was held at the Paris Cinematheque in France from April 13th to July 31. It will later be shown :
- at the National Cinema Museum of Torino, Italy, from October 2016 to January 2017.
- at the Musee de l'Elysee (Lausanne) and the Swiss Cinematheque (Lausanne), Switzerland, from April to July 2017.
Several events of the Paris retrospective are of special interest to River Fans (I don't know if similar ones will be held around the Italian and Swiss exhibitions) :
- Gus Van Sant master class : April 14, 2016 - 7pm.
- a conference by Jean-Marc Lalanne about River Phoenix, "the numb angel" - in French. May 5, 2016 - 7pm.
The videos should be available on the Cinematheque website shortly after.
Followed by a screening of :
- My Own Private River, by James Franco : May 5, 9:15pm
More movie screenings :
- Idaho, by James Franco : May 25, 7:30pm - James Franco's edit of MOPI
- My Own Private River, by James Franco : May 25, 7pm
- My Own Private Idaho, by Gus Van Sant : April 16, 7:30pm. May 4, 5pm. May 18, 9:45pm.




A Master Class took place on Thursday April 14th, where Gus Van Sant was interviewed by Matthieu Orlean, the exhibition's curator, based on the lengthy discussions on Gus Van Sant's work and influences they had had while preparing the exhibition. They discussed of Gus' choices for Elephant, his peculiar work on Gerry with Casey Affleck and Matt Damon, working without a screenplay. They also talked about how Gus chose the music scores of his movies, and of his work with directors of photography, notably Harris Avides. After a vivid description of Mr Avides, Gus said that he always relied on his opinion about whether the scene was good or not, "because the DP is looking through the camera".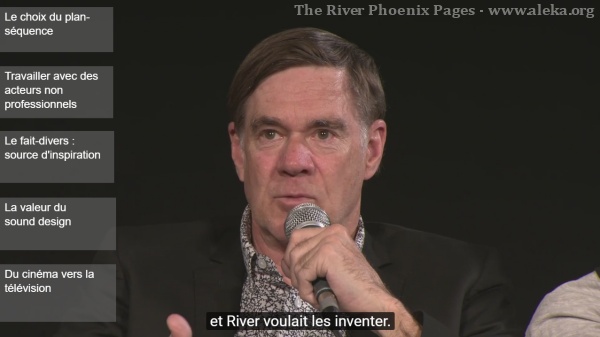 Matthieu Orlean then asked, speaking about how Gus liked to make his movie collaborative works, whether Gus could speak about his work with River Phoenix, how much input he had brought in My Own Private Idaho, adding "since we like him very much here too". Gus explained that River had his own mind about who his character was, and how he thought. He didn't want to use Gus' impulsion on the character. For example, before the movie, Gus gave both River and Keanu Reeves a book by John Rechy about street hustlers, City of Nights. River read one page maybe, while Keanu read the whole book and bought and read all of John Rechy's other books. And the same when Gus offered to introduce them to real street hustlers, to get information about the real thing. Keanu was curious and asked them a lot of questions, but River felt he knew where his character was coming from. But then Keanu's part was based on Prince Hal from Shakespeare, so he had a lot of work to do to build the character. While Mike, River's character, was based on a real boy from Portland who also acted in the movie. So River could ask him things directly. He wanted to be independent from Gus' vision. He was wearing pants that were too short, that Gus found ugly. He asked "Are you sure you want to wear these?". And River replied "Definitely!". And Gus knew he would stick to it, so he didn't insist. "I was probably the one being too square anyway". River wanted to be trusted. They both trusted each other, but Gus didn't know how it had become that way. It just happened.

Gus Van Sant also said that he thought - though he never asked him - that River liked MOPI enough to put his signature scene in it. He was famous for a scene in particular where his character cried. He had similar scenes in other movies, and each time that scene was the pivotal scene or the pinnacle of the movie. There was a scene in the screenplay where Mike confronted his older brother, and that could have become the crying scene. But they shot it and it didn't happen. Then River asked Gus if he could move the shooting of the campfire scene to the very end of the shooting, so he could rewrite it. Gus said yes, trusting River, and knowing they could always come back to the original lines if it didn't work. River worked on the text with a friend of his, who was also a friend of Gus (he tells the same anecdote in the exhibition catalogue and the friend was Matt Ebert).

The full video (with French subtitles for Gus' answers) - starting at the bit about River, at 42' something.

The master class was followed by a signing session of the exhibition catalogue. For the exhibition, the cinematheque bookshop on premise sells several items :
- first off, obviously, a big catalogue of the exhibition (39 Eur), called Icones. It features a long interview / discussion (in French) of Gus Van Sant about his various works and influences, and a good part of the works shown in the exhibition, but not all. Notably, focusing on River, the polaroids of River and Rain are not among the ones featured in the catalogue. There are several of the Bruce Weber promo pics for My Own Private Idaho, but not as many as the ones shown in the exhibition. In those few pages about MOPI, Gus tells the anecdote he repeated in the master class, of how he thought River had rewritten the campfire scene so his character would have the occasion to cry, as it was one thing River was famous for. He rewrote the character of Mike as gay, partly due to working on that scene with his friend and Act-up activist Matt Ebert. Originally Gus had not meant either character to be gay, since one of the points of the story was to explore what it did to those men to engage in gay sex solely for the money even though they were straight. But he didn't contradict River, because some of the street kids were gay themselves, so it wasn't unreleastic either.
- other merchandising include a tote bag designed by Gus Van Sant (it features him and his movie characters drawn), three different posters of My Own Private Idaho (including one that seems to be in Spanish and doesn't look like the picture used is from the movie... Two guys on a bed, none of them being River or Keanu), magnets and postcards of Gus' watercolor portrait.
- I also saw a collector edition of Paranoid Park in the shape of a skate-board.
The exhibition focuses both on the influences that inspired Gus Van Sant and on the different medias he expressed himself through.

In the first room, extracts from a few of his movies are projected on a wall. One of them is the "This road goes all around the world" excerpt from My Own Private Idaho. The rest of the room show pictures taken by Gus Van Sant : his collection of polaroids, mostly of actors, usually taken after meeting them to discuss a possible movie. There are two of Keanu Reeves, one taken for Idaho I presume and one that looks like it was taken a few years later. There is the one of River Phoenix that was on the cover of Huge magazine a few years ago. There is also one of Rain Phoenix, right next to River as they are sorted by alphabetical order. This room also features photos of the Hanson brothers taken around 1998 for Interview magazine, a few other portraits, and big-size collages of his past polaroids.

The second room shows memories and work documents from several movies : location pictures for Paranoid Park, a map of character deplacements for Elephant, theme plans designed by Gus Van Sant to visualize screenplays. A whole wall is dedicated to the promotional photoshoot by Bruce Weber made for My Own Private Idaho. Several of those pics were published in Interview to illustrate an interview of River and Keanu. Some of those pics looked unseen before to me.

The next room shows artworks and short movies that inspired Gus Van Sant, like Brion Gysin. The second-to-last room allows us to discover Gus Van Sant watercolor paintings, some realistic portraits - one is of Elvis, another of Nicole Kidman -, some more like dream-like scenes. One of them is based on the River Phoenix polaroid. It also features two short movies by Gus Van Sant, an early one called "Five ways to kill yourself" where he plays the main part, and one interview of a misguided youth.

In the last room, in the dark, one can listen to a selection of music scores from his movies (a piece for Last Days), a musical piece he wrote, a cover of "Moon River" he sang for a Pink Martini album... There are also excerpts of three of the music videos he directed : David Bowie's "Fame", The Red Hot Chili Peppers' "Under the Bridge", and the Hanson's "Weird".
Pictures were forbidden inside the exhibition, so I stole only a few ones. Sorry for the quality.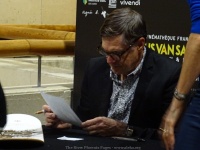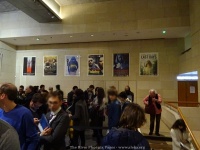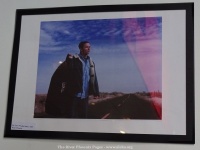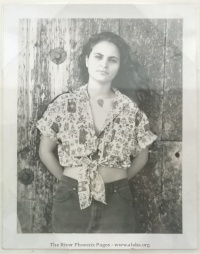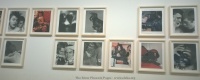 Back to the Home Page