Rain Phoenix residency at the Zebulon Cafe : September 30th, 2019



Rain Phoenix held residency with guests every Monday evening of September 2019 at the Zebulon Cafe in Los Angeles. The Zebulon Cafe is a cosy bar up north of Los Angeles, with a diverse line of artistic and charity events. Behind the bar, there's a bigger room with a stage and equipment for musical events.
I had already planned holidays in Los Angeles when Rain Phoenix announced the release of her solo album and then her residency at the Zebulon Café. At first I thought I was going to miss it by a few weeks, then I found out that since her residency lasted all of September, I could actually attend the last one. Otherwise living on the other side of the pond, I couldn't have attended.


- Sept. 9 Rain Phoenix residency Vol.1 w/Guy Blakeslee,Dol Ikara,DJ Ana Calderon Facebook listing
- Sept. 16 Rain Phoenix residency Vol.2 w/ SI Istwa, Frankel, guest DJ's Facebook listing
- Sept. 23 Rain Phoenix residency Vol. 3 + special guests Azure Ray, Ane Diaz, DJ Chris Holmes Facebook listing
- Sept. 30 Rain Phoenix residency Vol. 4 + special guests Facebook listing


The evening started with a shy guy I didn't catch the name, who showed up on stage between 2 songs played without him (and without the female singer who was on tour somewhere else), on with a music video projected on the screen.
Next was Kokomo, a female folk trio whose lead singer is a good friend of Rain apparently. Pleasant to the ears even though they said it was their first public appearance.
Then The Movement Movement, another female trio, of dancers, delivered a performance interacting with the audience.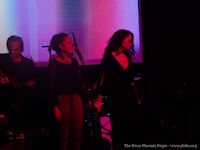 Then the grand finale of Rain Phoenix with 5 musicians - a saxo player joined for the last song. She sang 6 or 7 songs, including the singles already relased : Time is the Killer and Immolate.
Rain Phoenix at the Zebulon Cafe, September 30th, 2019 - Time is the killer
I think they will all be on her album released on October 31st. She played different instruments, tap danced at some point. Her sister Liberty joined her on a song called Hey, Heartache. The band ended on a song co-written with River at the time of Aleka's Attic, Lost in the Motion.


She gave a few speeches including a long playfully cheerful one about death being the one thing that we are all going to experience, for ourselves and for our loved ones. And that it made her feel close to all of us, to know that there was at least one thing we would all share.
"And yet we tend to tiptoe around it and not know how to be present when it happens, as if it was catchy and we risked something by staying close to those whose relatives are nearing death".
That echoed to me not because of River but more personally. She said maybe we're scared for no reason and maybe death is a wonderful thing.
The whole evening felt very intimate, in part thanks to the friendly cosy vibe of the Zebulon, and in part due to the warmth of a shared experience.

Rain stayed after the show to sign items of merchandise, while her mother Heart danced around to the loud music.
The 5 Time is the Killer vinyls were sold out before I reached the table, but I had bought it online already. I didn't want to carry it with me overseas. There were also T-shirts and a poster. All of that (minus the Time is Killer vinyls) are available on her website store.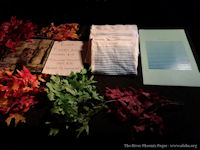 Links :

"Achieving success gets complicated. You find yourself hanging around with a different crowd. I probably would have shied away from it, but after a while you can't help but get sucked in ... all those parties and premieres and limos picking you up. And after a while, if you hang in with this little group, you lose your sense of reality completely." -- River Phoenix
Back to the Home Page