August 23, 2016
I added a separate page about the exhibition and Gus Van Sant's master class, and one summing up the conference. March 2, 2016
For the Gus Van Sant retrospective at the Paris Cinematheque in France from April 13th to July 31, several events may be of interest to River Fans:
- Gus Van Sant master class : April 14, 2016 - 7pm. Tickets can be bought online from March 19, 2016 on the Cinematheque website.
- a conference by Jean-Marc Lalanne about River Phoenix, "the numb angel" - in French. May 5, 2016 - 7pm.
The videos should be available on the Cinematheque website shortly after.
Followed by a screening of :
- My Own Private River, by James Franco : May 5, 9:15pm
More movie screenings :
- Idaho, by James Franco : May 25, 7:30pm - James Franco's edit of MOPI
- My Own Private River, by James Franco : May 25, 7pm
- My Own Private Idaho, by Gus Van Sant : April 16, 7:30pm. May 4, 5pm. May 18, 9:45pm.



October 31, 2015
- The Paris Cinematheque will hold an exhibition about Gus Van Sant in 2016.
After Stanley Kubrick, Tim Burton and Martin Scorsese, the Cinematheque Française (Paris, France) will hold an exhibition about Gus Van Sant from April 20, 2016 to July 31, 2016. Like previous exhibitions, in addition to show the director's movies, it will probably display items relevant to the director's career, master classes, conferences, maybe pictures (since Gus Van Sant is also a photographer). Next is the flyer announcing the event (just the part about the GVS exhibition : the rest is announcing an exhibition about Martin Scorsese). The exhibition is co-curated with the Museo Nazionale del Cinema de Turin, the Elysée Lausanne photography museum, and the Cinematheque Suisse.
- On October 6, 2015, Criterion Film has issued a new release of MOPI, in Blu-Ray, with special features including a video of GVS discussing it with Todd Haynes.
OUT interview of Gus Van Sant about the movie - October 2015.
Hammer To Nail extensive article about the Criterion 2015 release, with details on the bonuses.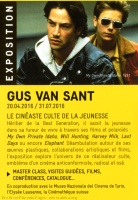 - My Own Private Idaho was shown at the Deauville American Film Festival 2015 in France, as part of a special tribute to Keanu Reeves. The other movies included were Dracula, Matrix, John Wick and Man of Tai-Chi. During his thank you speech, Keanu briefly mentioned River as one of the gifted artists he was lucky to work with.

- My Own Private Idaho was shown at the Toronto Internation Film Festival 2013 in Canada, as part of a Keanu Reeves retrospective. Keanu Reeves recorded introductions for each movie, you can watch the one for MOPI here below, where he of course speaks about River Phoenix :
Keanu Reeves introducing My Own Private Idaho.